Career
What it's like to work at KOS Design
A dynamic, supportive team with years of experience. Turnover rate is ridiculously low. If people are happy, why move, right?
We are big enough to deliver yet small enough to care.
Challenging projects from around the world - major brands
An open culture where everyone contributes to achieve the same goals. No office drama. No politics.
Constant training to keep you on top of the game
Attractive salary and packages
Free parking, swimming pool, fitness, sauna
FREE happy lunch every Friday
An annual international company trip
Magento / Shopify Developer
Responsibilities
Developing Magento modules in PHP using best practices
Building and configuring e-commerce websites
Handling basic maintanance support tasks and tickets
Coordinating with designers and project managers
Setting performance tasks and goals

Qualifications and required skillset
Good spoken and written English and communication skills
Demonstrable knowledge of API integration, Payment Gateways, Shipping
Basic knowledge of E-commerce or Shopify architecture
Willingness to learn and a "Can Do" attitude
Ability to work in a team environment
Ability to manage multiple projects and work to strict deadlines
Understanding of modern UI/UX trends
Advanced knowledge of HTML, CSS, Javascript, PHP, mySql

Internship
Assisting diverse projects and gaining great exposure to branding, design and web development
Working directly with a young management team
Freedom to experiment with ideas and improve transferable skill sets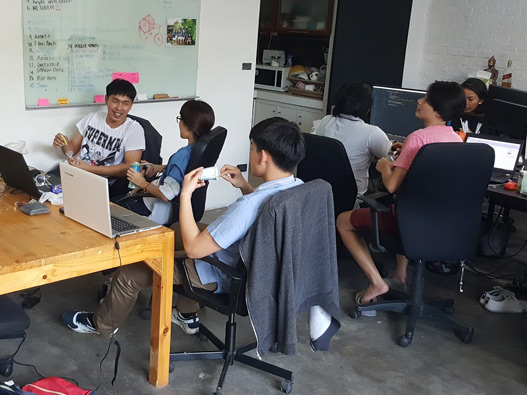 "It was so AWESOME to work at KOS Design! I would say that
all what I hoped for or expected at internship was here" - Amy
Thank you
Are you a freelancer?
You're experienced and you'd like to work on freelance basis or project-based. Let's find a way to work together!
Creative Web Designer
Qualifications and required skillset
Creating visual layouts for web pages following the latest design trends and techniques. Design high quality mockups, wireframes, landing pages, web interfaces
Conceptualizing original website design ideas that bring simplicity and user friendliness to complex roadblocks
Analytical skills
Testing and improving the design of the websites for ecommerce and corporate projects
Establishing design guidelines, standards, and best practices
Experience with Adobe Creative Cloud tools (Sketch, Photoshop, Illustrator, InDesign) - Sketch is a massive plus
An eye for details
Ability to communicate with project managers and developers
Account Manager
Be a mini CEO! We offer you a chance to work independently and collaboratively with the team without micromanagement. You will be the bridge between interesting brands, clients and amazing young team.
Responsibilities
Overseeing creative service projects ensuring they are on track, on time and on budget
Contacting with other departments to ensure smooth work flow and project communication
Managing and plan all work flow through the creative department
Leading project status meetings and manage the daily schedule
Creating monthly forecasts to ensure best practices of resource planning
Meeting clients to discuss their needs
Ensuring that communication flows effectively
Quality control of all work before submitting to clients
Qualifications
Strong skills of presentation and writing proposals
Excellent spoken and written English and communication skills;
Positive attitude towards teamwork, willingness to learn and a "Can Do" attitude;
Ability to handle multiple projects
How to apply:
Please send Resume / photo / and expected salary at [email protected] or contact 02-7138625